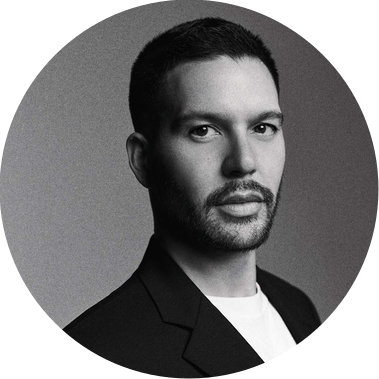 ABOUT
Creating timeless and creative hairstyles for the world's finest fashion houses and top magazines, Eduardo Bravo is among the top emerging names in the fashion industry for hairstyling.
With two decades in the industry as a salon hairstylist, his background began to form from guidance by the Vidal Sassoon and the Toni and Guy Academy. His experience of working with a high-end salon clientele allowed him to develop his signature dry cuts and cool, surfer balayage blondes which facilitated a chance to enter the fashion industry. Eduardo's first editorial assistant job entailed working with hair stylist Paul Hanlon for a Louis Vuitton Campaign shot by Bruce Weber in Miami Beach. It was an instrumental experience that gave him first hand experience into the world he dreamed of being part of but the path to get there was unclear. During this time, Sam McKnight led an 8-month long online editorial masterclass called Mastered. The program taught hair stylists how to build their portfolio and get into the fashion world with weekly graded assignments and at the end a final portfolio presentation. The winner would receive an all-expense trip to Paris to work with Sam McKnight for the Dries Van Noten RTW show, and out of over 100 global participating hair stylists, Eduardo won. He then started assisting during Fashion Week with many of the top hairstylists, and when the opportunity to work alongside the legendary Guido Paulo and Gary Gill; he realized he shared a more similar vision for the future of the hair industry and decided to work alongside them for six years working the Fashion Week Ready-to-Wear and Couture world tour for both the Men's and Woman's shows from Dior, Givenchy, Prada to Louis Vuitton and Balenciaga. Eduardo's experience taught him how to handle all hair textures, including extensions and wigs to create shapes from sleek to extra voluminous while in a high pressure and time sensitive environment. These skills allowed him to develop his own style. Eduardo solely produced looks for Vivienne Westwood Couture Collection and working with high-quality wigs for the Huda Beauty brand for their global campaigns. Magazines he works with inculde Vogue, Harper's Bazaar, Antidote Magazine, Odda, Lampoon, Numero, Behind The Blinds, Icon, and Rollacoster Magazine, and most recently with actor Lucas Bravo for the Persol global campaign.
Born in Miami, FL and raised in Washington DC, Eduardo's journey began at 15 when he started as a salon assistant. He finished High School a year early so he can get his cosmetology license, then a Bachelor's of Science in Business Administration from George Mason University while working on his salon career in the DC area. Shortly after graduating, he moved back to Miami Beach to be closer to his family and work more closely within the fashion industry. During this time, he realized he could make his dream a reality in the European market. In 2016, he moved to Germany where he quickly entered the fashion world, and since 2021 is now based in Paris.
CONTACT
Available Worldwide. Please contact for rates.
info@eduardobravohair.com
Mobile +49 176 229 07532
Instagram: